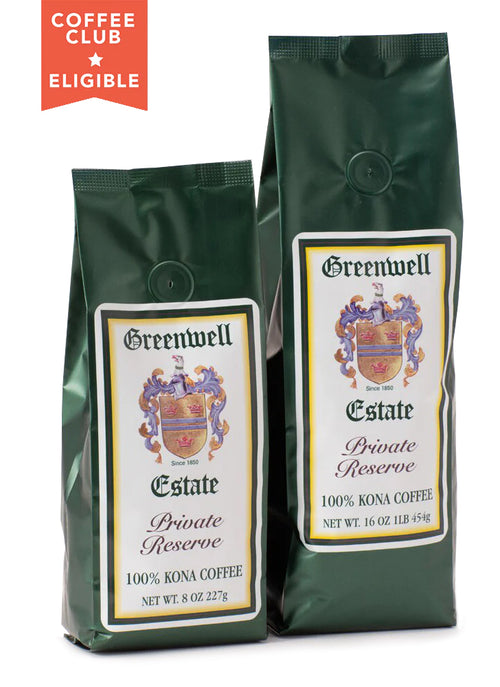 $30.00
-
Regular price
$30.00 USD
Subscription discount 10% off : $4.50
Regular price
Sale price
$30.00 USD
Unit price
per
Sale
Sold out
Product Category:
100% Kona Coffee
Greenwell Farms 100% Kona Coffee "Private Reserve" is our flagship coffee. It is a Single Origin Estate Coffee that comes from a 35-acre patch in the center of our farm and is processed on site to the highest gourmet standards. Here, 3 varieties of Arabica tree grow side by side. Kona Typica, Hawaii Typica, and Red Bourbon trees combine to make a coffee like no other.
Private Reserve is described by many as the best Kona Coffee in existence. It has an elegant coffee taste with notes of rich dark chocolate revealing an exceptional balance of flavor, aroma, acidity. Pleasingly flavorful and aromatic, with a silky-smooth finish, you will not find another coffee like it.
Although Private Reserve is a fantastic daily coffee, this is the one you serve at the special occasions, the weddings, the formal events, or the Holidays. A true taste of the best Kona has to offer.